Signature Facial
The Westbourne Signature Range

The blend of unique expertise in light touch therapy, yoga therapy and facial massage techniques results in a powerful revitalising facial treatment with intense relaxation.

This treatment helps to boost both circulation of the skin and the immune system and is suitable for all skin types. An initial bespoke consultation will result in a therapy-facial treatment tailored to your specific needs.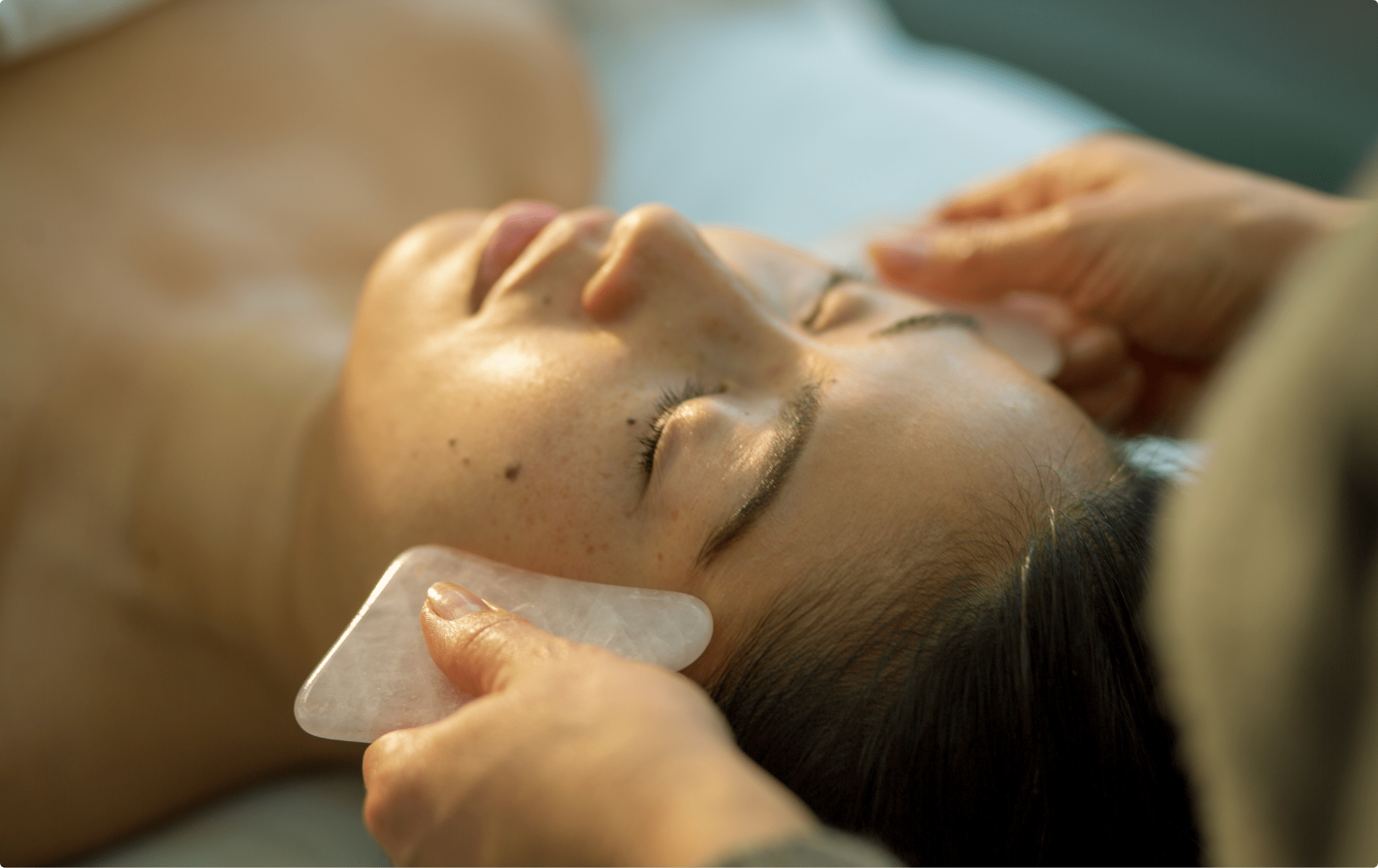 Initially you will be invited to undertake a full in-depth consultation, followed by bespoke treatment, thereafter with a post treatment review.
The facial treatment requires no products, or the simplest oils from nature, discussed fully prior to the session, therefore even the most sensitive of skin types will benefit.

Following consultation, and for the 90/120 minute treatment, we may incorporate bespoke crystal Gua Sha techniques to help accentuate the facial lift response. We use only organic cold pressed grape seed oil for this purpose. This oil is rich in vitamins C D & E with many natural benefits including skin tightening and anti-ageing properties. It is thought to be beneficial for dark eye circles, skin strengthening and assisting with troublesome spots and acne.

Our signature facial is a fully clothed treatment with only the shoulders, neck and face requiring to be exposed. You will be invited to rest upon our sumptuous massage couch, draped with blankets and quickly invited to enter a state of relaxation and calm. Our guests are asked to eat lightly before treatment, and we would advise not to be overstimulated post treatment.

Our intention for this therapy is that you step out of your physical reality to immerse into an ocean of tranquility whilst undergoing a rejuvenating and restorative treatment.
Carefully designed massage techniques to the upper body, neck, face and scalp are designed for deep circulation and lymphatic drainage to help assist removal of toxins, promote skin cell renewal and boost elastin and collagen. This is coupled with stimulation of energetic points throughout the face. Practiced regularly, the therapy can help you look and feel younger.

The therapy brings together the aesthetics of a facial, relaxing light touch therapy and the benefits of massage in perfect harmony. This treatment is beneficial for many medical indications such as headaches & migraines, sinusitis, teeth grinding, jaw tension and many other concerns.
Explore our exclusive range of Westbourne signature treatments.